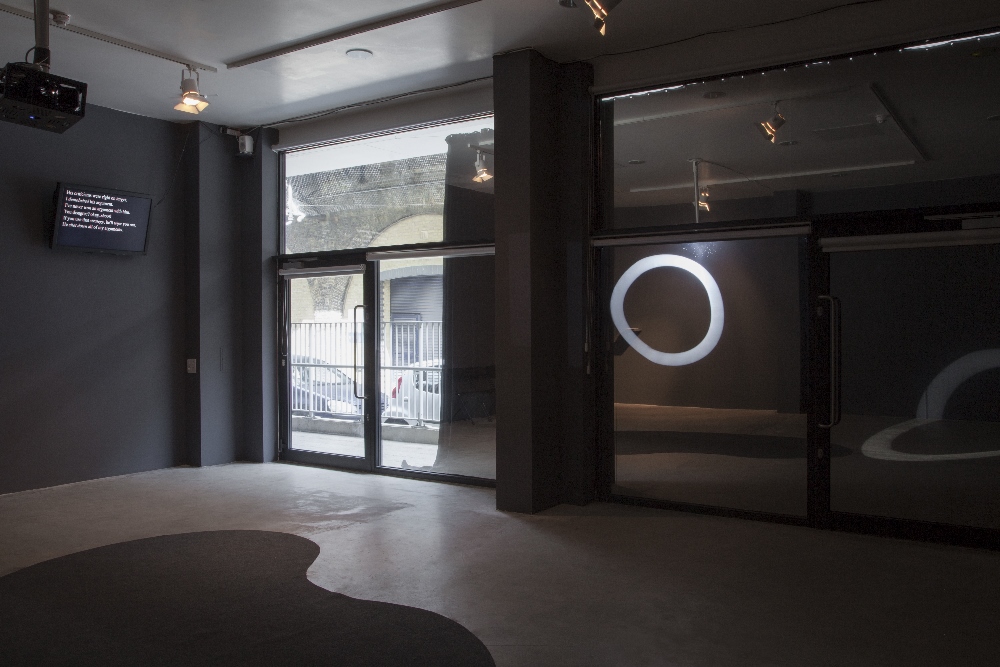 Star Chamber | Susanna Davies-Crook
30 May – 13 June 2015
Preview Friday 29 May 6.30-11.30pm, performance at 9.30pm
Live set by Recsund 10-11.30pm [https://soundcloud.com/recsund]
Closing event Saturday 13 June 3-6pm – Live distributed script reading
Response and research exchange between Sally O'Reilly and Susanna Davies-Crook

Star Chamber, an exhibition of new work by Susanna Davies-Crook, forms the last of three solo shows produced by #temporarycustodians at Res.
Susanna Davies-Crook (b.1985, London) is an artist and writer with a background in theatre. Speaking through multiple bodies, both live and recorded, the exhibition is a system of voices that points toward an absent body held invisible in stasis. The convening of rhetorical speech and slippery emblems within the gallery considers the summons of Habeas Corpus, translating as "you shall have the body". The consultation of bodies and behaviours for the extraction of qualitative data have been examined via a series of workshops that employ the methodologies of juries, military decision-making protocols, marketing focus groups, theatrical rehearsals and character development exercises. The Latinate voices of Justice and administration preside over the architecture of the gallery, implicating the live body in a feedback loop of received ideas.
A series of closed workshops with actors were held prior to, and will continue during, the exhibition. The installation includes excerpts of material developed during these sessions, with performed readings during the preview and for the closing event. These provide selective access to additional material, otherwise undisclosed within the recorded material. Privacy mirror foil installed on the floor-to-ceiling public facing windows reflects the gallery's architecture, addressing the context of the gallery facing onto a privately owned passageway used as a public right of way. A script written by Davies-Crook in the voice of the ancient Roman female goddess Iustitia (Lady Justice) envisions how individuals enact and embody subjecthood and plays to the public through a speaker onto the exterior walkway.
Davies-Crook has employed 'interlocutors' to mediate the research material and subject matter toward an 'outcome'. These include a digital animation made in dialogue with Joey Holder, a text reflecting on the body as an island by Emily Beber, a text produced with rhetorician James Cullen (Speech Writer's Guild), video footage of the workshops filmed by Danny Nellis (Video In Common), rehearsing with actors Kristina Epenetos and Tom Ross Williams, a voice-off recorded with Ruth Clarke-Irons, a written response from writer Lizzie Homersham and a live response from author Sally O'Reilly as part of the closing event.
The title of the exhibition, Star Chamber is a reference to a particular process of English court of law operating in Westminster from 15th-17th Century – "…since its abolition in 1641 [the Star Chamber] has become a synonym for secrecy, severity, and the wresting of justice"*. It is the precursor and catalyst for the Habeas Corpus policy that has come to prominence in the wake of state-led human rights abuses in Guantanamo and more recently has been invoked in the US in response to racially motivated police brutality and arrests.
* The Court of Star Chamber, Edward P. Cheyney, The American Historical Review, Vol. 18, No. 4 (Jul., 1913), Published by: Oxford University Press on behalf of the American Historical Association, pp. 727-750.
Susanna Davies-Crook (b.1985 London) works predominantly with performance, workshops, video and text. Graduating last year from MA at Royal College of Art, recent exhibitions, events and projects include Some Place of Avoiding an Animal, South London Gallery (2015) APOPHENIA, Islington Mill, Salford and Edge of Human, Los Angeles 2019, London (2014) Horizon Shine/DKUK, Ancient & Modern, London and DigitalDriftsxKilometre, Grand Palais, Paris (2013). Her forthcoming compendium of Wet Knickers, a neurotica-zine project is a collaboration with writer Emily Beber. As a contributing art editor at Dazed & Confused and contributing editor at Berlin-based Sleek, she has contributed writing on contemporary art for the past five years to magazines including Harpers Bazaar Art Arabia, Frieze online, LEAP and Thisistomorrow and various catalog essays and artist's texts.  She was nominated for a TotalTheatre Award at the Edinburgh Festival 2010.
#temporarycustodians is an R&D platform, initiated by curator Helen Kaplinsky and artist Maurice Carlin, asking how the shift towards the share economy and p2p might provide an alternative to historical modes of collecting art. #temporarycustodians is supported by Arts Council England, Islington Mill Studios, University of Salford Collection and Castlefield Gallery New Art Spaces.
Susanna would like to thank Felicity Dennistoun at thoughtfulspeech.com, Amie Barnard at primrose.co.uk, Andrew Bunsell at Stamford Works, Joe Johnston, Joe Morris, Alastair Frazer, Lawrence Lek and the South London Gallery.
Body of Evidence as a Table of Contents 
Exterior
Iusticia (Lady Justice)
Interior
Kammerspiel, Dark reflective window film privacy tint internal mirrored
Carriagewheel Grey, Household emulsion
Probability Distribution, Carpet
"You're ON" Idents, Stereo audio loop
My Island, Window and wall projection animation loop
As above, so below, Scripts, research, found text, workshop documentation Teleprompter pro screen recording
I'm Your Island, Printed text
My Island Visualisation Exercise, audio loop